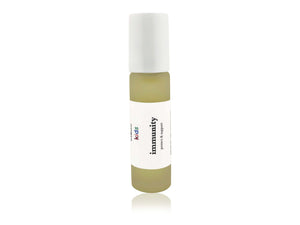 Seedbloom Wellness
Immunity for Kids
Regular price
$24.00
$0.00
Unit price
per
Our immunity blend is a natural way to help support and protect your immune system. This unique blend aids against environmental and seasonal threats, supports your respiratory function, promotes healthy circulation, supports the body's natural antioxidant defences and overall wellness. Made in the U.S.A.
Ingredients: organic fractioned coconut oil (cocos nucifera) wild orange essential oil (citrus sinensis), clove essential oil (eugenia caryophyllata), cinnamon leaf essential oil (cinnamomum verum), cinnamon bark essential oil (cinnamomum zeylanicum), eucalyptus essential oil (eucalyptus radiata), rosemary essential  oil (rosmarinus officinalis), melaleuca tea tree essential oil (alternifolia), peppermint essential oil (mentha piperita), oregano oil (origanum vulgare). 
Directions: Apply to bottoms of feet and along spine. Can be used up to 4 times a day. Excessive pressure to rollerball may result in oil leaking. Ages two years and up. Intended for use with adult supervision.
Store in a cool dark place and away from direct sunlight.
*These statements have not been evaluated by the Food and Drug Administration. This product is not intended to diagnose, treat, cure, or prevent any disease.
All Natural. Vegan. Cruelty-Free. seedbloom products are all natural, vegan, and cruelty-free. They contain no synthetic ingredients— this includes no dyes, no parabens,no fragrances, and no synthetic preservatives. Additionally, they are concentrated blends containing no fillers and using the minimum amount of ingredients necessary to achieve the maximum results.
Disclaimer: The information and products provided are not of a medical professional. Please check the ingredients list on each product in case of any sensitivities. Once you receive your product do a patch test on your arm to ensure you don't have any sensitivities.
Our product has not been evaluated by the Food and Drug Administration. They are not intended to diagnose, cure, treat or prevent any disease. If you are pregnant, nursing, have a medical condition or taking any medication, please consult with your physician before use.
WARNING: For external use only. Do not apply to broken or irritated skin. Do not use it on children or animals. If skin sensitivity occurs, discontinue use and consult your doctor. If you are pregnant, nursing, taking any medications or have any medical conditions consult your doctor before use. Discontinue use and consult your doctor if any adverse reactions occur. Keep out of reach of children. Avoid contact with eyes, inner ears and sensitive areas. Citrus Oils are photosensitive, avoid direct sunlight for 8-12 hours after use.
---